I don't remember THAT on the list!

This article (Dive Bombing), or a section of this article, is not considered canon until Team Paradox has considered it so.

It may or may not be part of Paradox, in either the game or the Lore. Usually, its status will be debated in the the discussion page of the appropriate article.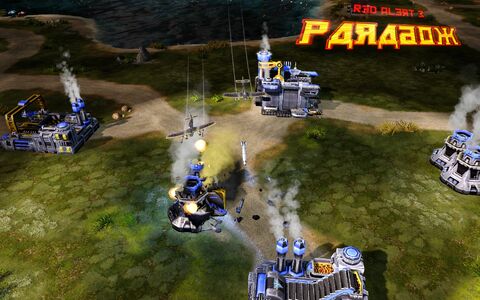 The Confederate Air Force is not made for a straight fight. Even the vaunted Hawker must use its fibre optic camouflage to make hit and run attacks before disappearing again into the ground. So how do the Confederates support their own ground assaults? They use a design made for reliability. They use the Rascal.
Of course, the Allies would have no trouble taking down a Rascal using their oh-so pretty multigunner defenses, but Multigunner technology can't go everywhere, especially when an Allied column is on the move. So the Rascals have found a new use for their cannons and bombs; the growing concept of Close Air Support.
First, Confederate spotters contact the nearest Confederate air base with the coordinates of an enemy position, often an armored column or large patrol. The coordinates are relayed to the Rascal squadron, and depending on the gravity of the situation, anywhere from a single Rascal to an entire squadron will close in on and bombard the enemy positions with concentrated bombs and autocannon fire. This can either serve as the lead-up to an ambush, or the final mopping up of enemy forces.
Though tough, Confederate commanders have learned the hard way that the Rascals are still vulnerable to being shot down en route to their objective.
| | | |
| --- | --- | --- |
| | Strafing Run | A single Rascal bomber flies by and fires into the target area. |
| | Close Air Support | A pair of Rascal bombers fly by and fire into the target area. |
| 60px | Wild Weasel | A trio of Rascal bombers fly by and fire into the target area. Named "Wild Weasel" because this level of support has the best chance of eliminating enemy anti-air. |
Community content is available under
CC-BY-SA
unless otherwise noted.